<!IMG SRC="pixel.gif" HEIGHT=1 WIDTH=180>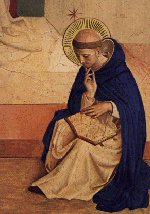 Saint Dominic
contemplating the Scriptures
<! -------------------------End H:\Comments\BoilerPlate\intros2.shtml >

Isaiah 11:1-10

Isaiah gives hope of an ideal king who will come one day. In his time, perfect justice will lead to perfect peace. He continues the metaphor of a tree from the previous chapter.
---
Romans 15:4-13
Paul has told his readers that "We who are strong" are to help the "weak" to come to terms with their consciences; we are to endure, pleasantly, their "failings" – thus building up the Christian community. Jesus is our great example.
---
Matthew 3:1-12
Matthew has told us of Jesus' descent from King David, his birth and infancy, and the coming of the wise men. Now he leaps forward to about 26 AD. John the Baptist invites people to return to keeping God's pact with them.
© 1996-2016 Chris Haslam