<!IMG SRC="pixel.gif" HEIGHT=1 WIDTH=180>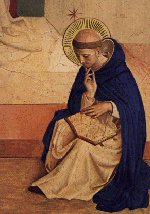 Saint Dominic
contemplating the Scriptures
<! -------------------------End H:\Comments\BoilerPlate\intros2.shtml >

Genesis 21:8-21

God has promised a son to Sarah and Abraham in their old age. As a sign that Isaac is a member of God's people, he has been circumcised. But when Sarah was unable to conceive, Abraham had another son, Ishmael, born of Hagar, a slave.
---
Romans 6:1b-11
Paul has insisted that God gives grace to the Christian purely as a matter of love and without expectation of being paid back. The more we deviate from God's ways the more he gives us grace. But this might leave Paul open to a charge of encouraging licentiousness.
---
Matthew 10:24-39
Jesus has commissioned the twelve disciples to continue his mission in the world. He continues to instruct them, telling them that following him will, at times, be difficult.
© 1996-2016 Chris Haslam