<!IMG SRC="pixel.gif" HEIGHT=1 WIDTH=180>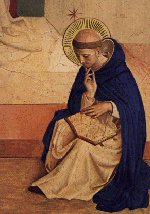 Saint Dominic
contemplating the Scriptures
<! -------------------------End H:\Comments\BoilerPlate\intros2.shtml >

Esther 7:1-6,9-10,9:20-22

This is a story set in Persia during the Exile. Haman the vizier has arranged for Mordecai and all Jews to be annihilated, but through the bravery of Esther, they are saved. We learn the origin of the Jewish festival of Purim. At times, God works for his people in ways not found in Mosaic law.
---
James 5:13-20
In the conclusion to the book, the author expands on his thoughts about prayer and tells his readers that bringing those who deviate from God's ways back to integrity in God's eyes will be rewarded at the end of time.
---
Mark 9:38-50
Jesus is prepared to tolerate someone who restores people to spiritual health, even though he is not a disciple. Kindness to his followers will be rewarded on Judgement Day, but whoever shakes the faith of a fellow Christian will be condemned on that day.
© 1996-2016 Chris Haslam