<!IMG SRC="pixel.gif" HEIGHT=1 WIDTH=180>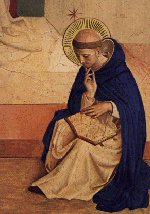 Saint Dominic
contemplating the Scriptures
<! -------------------------End H:\Comments\BoilerPlate\intros2.shtml >

Job 1:1;2:1-10

In this reading, Satan is a member of the heavenly court. He is not the devil, but he does have a cynical attitude towards humans. Job has great faith in God, so Satan has suggested that he be tested, to ascertain whether his faith is genuine.
---
Hebrews 1:1-4;2:5-12
Jesus is the primary agent of God's self-disclosure to humans and of God's rule over the universe. He shows God's intrinsic nature. As the great high priest, he has purified humankind of all sin, and is now enthroned in heaven, at the side of God.
---
Mark 10:2-16
Mosaic law permitted a man to divorce his wife for cause, but the grounds for divorce were not clear. The Pharisees were divided on the matter. Jesus expects a higher standard of his followers.
© 1996-2016 Chris Haslam