<!IMG SRC="pixel.gif" HEIGHT=1 WIDTH=180>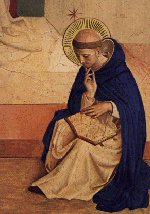 Saint Dominic
contemplating the Scriptures
<! -------------------------End H:\Comments\BoilerPlate\intros2.shtml >

Acts 5:27-32

The Sanhedrin has ordered Peter and John not to go on preaching the Good News, but they have continued to do so. Arrested a second time, they have escaped from prison with God's help. The temple police have picked them up, and now bring them before the Sanhedrin again.
---
Revelation 1:4-8
John begins and ends this book as a letter. Literally, it is "to the seven churches of Asia" , that is, of the Roman province in western Asia Minor, but "seven" symbolizes totality, so John may speak to all churches in the province, or to all churches, everywhere.
---
John 20:19-31
Early on Easter Day, Mary Magdalene has recognized a man standing near the tomb as Jesus. She has told the disciples: "I have seen the Lord." The disciples fear that they may suffer the same fate as their master.
© 1996-2016 Chris Haslam