<!IMG SRC="pixel.gif" HEIGHT=1 WIDTH=180>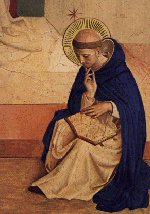 Saint Dominic
contemplating the Scriptures
<! -------------------------End H:\Comments\BoilerPlate\intros2.shtml >

Acts 11:1-18

Peter has been instrumental in the conversion of a Gentile to Christianity. Cornelius, an officer in the Roman army, has received the Holy Spirit and has been baptised – as have members of his household. Peter has now returned to Judea where members of the Christian community who are of Jewish origin seek an explanation as to why Gentiles have become Christians.
---
Revelation 21:1-6
The book of Revelation is "the revelation of Christ" made through John. It is prophecy which reveals secrets of heaven and earth. In a vision, John has seen the destruction of the old city, and of the old heaven and earth. Now he sees the new creation, of divine origin and free of evil forces – for ultimately God's love will prevail.
---
John 13:31-35
Jesus is preparing his followers for his departure. After the Last Supper, he has washed the feet of his disciples, a symbol of servanthood. He has predicted his betrayal. Judas Iscariot has gone out into the night – a symbol of the dark deed he is about to commit.
© 1996-2016 Chris Haslam