<!IMG SRC="pixel.gif" HEIGHT=1 WIDTH=180>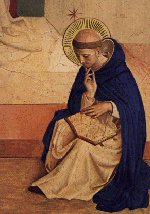 Saint Dominic
contemplating the Scriptures
<! -------------------------End H:\Comments\BoilerPlate\intros2.shtml >

Deuteronomy 26:1-11

In Exodus, we read that the Israelites are to offer the first or best fruits of the harvest to God. Our reading expands on this. By the time Deuteronomy was written, the offering was also in thanks for deliverance from Egypt.
---
Romans 10:8b-13
Paul has written that the Israelites did strive for a right relationship with God by trying to keep Mosaic law, but failed to achieve it because no one can be completely obedient to the Law. We have the opportunity to achieve such a relationship through Christ, by being Christ-like. God's freely-given gift of love and right living is readily available to us through faith.
---
Luke 4:1-13
During his earthly life, Jesus was tempted to deviate from his mission of bringing salvation to all who believe in him. Evil forces, here represented by the devil, test him in the hope that he will use God's power to meet his own needs and to seek political power.
© 1996-2016 Chris Haslam