<!IMG SRC="pixel.gif" HEIGHT=1 WIDTH=180>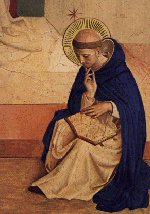 Saint Dominic
contemplating the Scriptures
<! -------------------------End H:\Comments\Website\SSI\BoilerPlate\intros2.shtml >

Lamentations 1:1-6

Jerusalem has been sacked by the Babylonian army. The Temple has been destroyed, and many of its people deported. The city and the people who remain in it are like a widow. In the ancient world she was without legal status and so open to mistreatment.
---
2 Timothy 1:1-14
It seems that Timothy has lost his fervour for the faith. Now he is counselled to follow Paul's example by using the gifts God has given him, and to keep to the doctrine which has been handed down to him from Jesus and the apostles.
---
Luke 17:5-10

Jesus has told his followers not to cause fellow Christians to abandon the faith, and to forgive others whenever they repent of their sins. Now he tells the twelve that it is the quality, rather than the quantity, of faith that counts.

[an error occurred while processing this directive]