<!IMG SRC="pixel.gif" HEIGHT=1 WIDTH=180>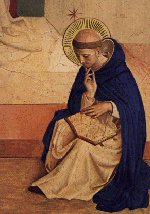 Saint Dominic
contemplating the Scriptures
<! -------------------------End H:\Comments\BoilerPlate\intros2.shtml >

Deuteronomy 26:1-11

In Exodus, we read that the Israelites are to offer the first or best fruits of the harvest to God. Our reading expands on this. By the time Deuteronomy was written, the offering was also in thanks for deliverance from Egypt.
---
Philippians 4:4-9
Paul tried to finish his letter earlier, but certain concerns about the community and its members intruded. In the Greek world, rejoice was used much as we say goodbye, but here Paul means rejoice literally.
---
John 6:25-35
The crowd has misunderstood the nature of the food Jesus gives. They have taken him for a political messiah who will free them from Roman occupation. John continues to pursue the question: Who is Jesus? Is he divine?
© 1996-2016 Chris Haslam