<!IMG SRC="pixel.gif" HEIGHT=1 WIDTH=180>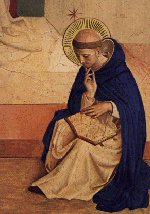 Saint Dominic
contemplating the Scriptures
<! -------------------------End H:\Comments\BoilerPlate\intros2.shtml >

Isaiah 9:2-7

In the preceding verse, Isaiah has recalled "the former time" when the northern territories, Zebulun and Naphtali, were conquered by the Assyrians. But, he writes, "in the latter time" God will return these lands to Israel: he will honour Galilee.
---
Titus 2:11-14
The author has just admonished his readers to "teach what is consistent with sound doctrine." They are to teach and practice good ethical behaviour "so that the word of God may not be discredited". It is the grace of God, personified in Christ, that will enable them to do this.
---
Luke 2:1-14,(15-20)
The prophet Micah prophesied that from Bethlehem would "come forth" for God "one who is to rule Israel", either descended from David or from God. He will be like a shepherd, feeding his flock with God's help and in his majesty. He will protect the people and bring them peace.
© 1996-2016 Chris Haslam