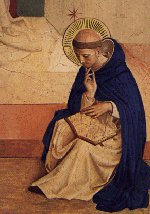 Saint Dominic
contemplating the Scriptures
Comments are designed as brief commentaries on the readings from the Revised Common Lectionary suitable for any adult who wants to understand the lessons for the week. Each lesson has a brief commentary, with a link to the biblical text, and a brief outline of the whole biblical book.
Each week, we offer:
Comments - a commentary on the readings for the week;
Introductions - short introductions to the readings for use in the liturgy;
Clippings - more technical information on each reading.
Now on-line
<! -------------------------End H:\Comments\BoilerPlate\index1.html >
Next week: Third Sunday of Advent - December 17, 2023
This week: Second Sunday of Advent - December 10, 2023
Last week: First Sunday of Advent - December 3, 2023
<! -------------------------Start H:\Comments\BoilerPlate\index2.html >
---
Comments site features:
For this week, next week, and last week:

Comments, short commentaries on the readings,
Introductions to the lections intended for use by the reader in worship, and
Clippings presents technical notes, as well as some material that might be of interest, but was omitted due to space limitations,

Subscriptions to receive emailed links to pages where Comments can be downloaded in WordPerfect, MS Word, and Adobe Acrobat format for distribution with Sunday bulletins, and where Introductions, Clippings and Study Notes can also be downloaded;
References used in preparing Comments are listed;
Copyright information is available.
Book Outlines which appear in the left column of Comments are also all available on a single page.
Glossary of Terms which appears in pop-up windows in Clippings is also available on a single page.
Frequently Asked Questions respond to queries from our readers and subscribers.
Now We Are Six!, an article about the Comments ministry
Getting Around
At the bottom of each page is a navigation table with buttons linking to all the other pages in the site. Simply click on any button to go to the indicated page.
Since July, 1996, we have been providing a weekly commentary on the readings from the Revised Common Lectionary. Reader feedback indicates that Comments are used for sermon preparation and group and individual Bible Study. They are distributed in churches and cell groups, shared by clergy study groups and lay preachers, or just read on-line for personal edification.
Want to know more?
Check our Frequently Asked Questions.
We enjoy hearing about who is using Comments and how you are using them. We try to respond to every message that we receive.
Feedback about the content is best directed to the author, . Feedback concerning site design is gratefully received by the publisher, .
Comments is a ministry of the Anglican Diocese of Montreal
Legal Stuff

Comments does not necessarily reflect an official theological position of the Bishop or Synod of the Diocese of Montreal. Other legitimate interpretations may be possible.
---
Lectionary site supplied by Vanderbilt University Divinity Library.
The Revised Common Lectionary is provided by the Consultation on Common Texts.