The Anglican Parish of St Andrew
Christ Church, St Andrew's East
---
---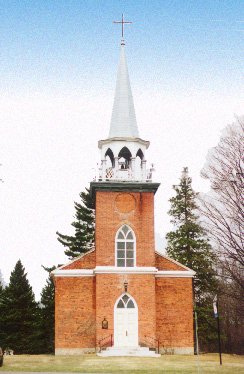 Christ Church was founded in 1819, and constructed on a site donated by Sir John Johnson, Seigneur of St Andrew's. A brick building, it initially contained 34 pews, including a Seigneurial pew. A sanctuary was added in 1826, a bequest of Lt. Col. George Taylor, whose body was entombed beneath the altar. (The chancel was subsequently extended, so the vault containing the body must now lie beneath the entrance to the Chancel.)
The parish of St Andrew was actually erected in 1822 by Letters Patent issued under the authority of King George IV.
The first rector, Joseph Abbott, was the father of Sir John Abbott, first Canadian-born Prime Minister, who was baptized in Christ Church.
The third rector, Richard Lonsdell, was the first Archdeacon of St Andrew's, a title which continues today in the Archdeaconry of St Andrew's.
Christ Church is the oldest Anglican church in the Laurentians, and the mother church of Holy Trinity, Lakefield, St Matthew's, Grenville, St Simeon's, Lachute, Holy Trinity, Hawkesbury, and St James', Hudson.
Set in a beautiful, open property, Christ Church is also home to a cemetery.
With the arrival of the railway in Lachute, St Andrew's began a long period of decline as economic activity shifted north. The side galleries, added in 1846, were removed in 1900, thus restoring the open beauty of the nave, but also recognizing that the extra seating in the galleries would never be needed. Sadly, there is now only a small group of faithful parishioners worshipping in this historic building. It is now only possible to hold two or three services per year in Christ Church, aside from weddings or funerals.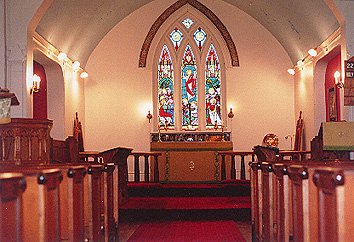 Today, Christ Church is a designated Historic Site. It is part of the Parish of St Andrew, and continues to host services in the summer, as well as weddings and funerals on request.
But now, with only three members left, Christ Church is no longer able to continue functioning as an active parish, and will close at the end of the summer of 1999.
Information on the Parish:
Service Schedule, 1999
Date
Time
Service
27 June, 1999
11:00 a.m.
Holy Communion
25 July, 1999
11:00 a.m.
Holy Communion
29 August, 1999
11:00 a.m.
Holy Communion
and Deconsecration
All are welcome to join us for worship
Getting There
You can get to St Andrew's East from Lachute, by following route 327 (rue Argenteuil in Lachute), or from Highway 50 at Exit 258. Take 327 south, about 8 kilometres from highway 50. * Entering St Andrew's East, you will pass the Catholic Church, as the road curves to the right. Cross the bridge over the North River, then continue another few hundred metres. Watch for Christ Church on your right.

* Note: Highway 50 goes West from Highway 15 at Exit 35. It is complete as of October, 1998, although the map below may not yet indicate this.

Click on the map below to get a zoomable version in a new browser window. To zoom the other map, click above or below the balloon. When you are finished, simply close the new window to return to this page.
Christ Church
St Andrew's East, QC
click map for more details
Brought to you by MapBlast!
---
---
The Anglican Parish of St Andrew
St Simeon's, Lachute * <!A HREF="ch_ch.htm">Christ Church, St Andrew's East<!/A> * St Paul's, Dunany
Weddings * Baptism * Ministry Team * Peace Candle
---
Web site created by: Alan T Perry
The Anglican Parish of St Andrew
© 1997-1999 Last Updated: 990727